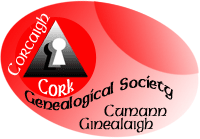 "Finding the old homestead"
One-day Family History Conference.
Presented by Cork Genealogical Society
Silver Springs Moran Hotel Cork,
Saturday 15th March, 2014.
John Grenham Genealogist author, will speak on
"Pre-famine Records" what is available.
Dr.Catriona Crowe Manager Special Projects National Archives....will talk about new Genealogical developments in the National Archives.
Jim Herlihy Genealogist... 'Cork's Finest - Tracing Cork's Policemen' The talk will include how to trace Cork born policemen in several police forces, the RIC, DMP, Revenue Police, Cork Civic Patrol (CCP) & Garda Siochana & will include famous foreign policemen who served in Cork.
Damian Shields is a conflict archaeologist and historian.
will speak on the impact of the American Civil War on Irish-Americans.
Cynthia O'Connor Ireland Reaching Out Project will speak on Genealogy/Heritage activities in local communities
John Tierney HistoricGraves.ie.. Community Genealogy - starting with graveyards This talk will describe some of the results and also assess the potential of this community-led approach for other genealogical datasets.
Tony McCarthy founder Irish Roots Magazine/Lectures in Irish Genealogy in UCC. will be M.C. for the day.
There will be Question and Answer sessions when you can ask the experts about your own research and display tables by Irish Roots Magazine, Family Search .org., IARC and others.
Non members welcome
Advance Booking essential before 9th.March
contact CGS c/o Olive Coleman
22 Elm Drive, Shamrock Lawn, Douglas ,Cork City Ireland. Phone 087 9196451 or e-mail
corkgensoc@gmail.com you can pay by Paypal, Cheque, or Cash.
see more details below.
Friday Evening 14th. March 7.30. Reception to honour some local people for their contribution to Genealogy we are making them a fellow of the society.
Speakers and invited guests attending .
Saturday 15th.March 09.30. One Day conference. Cost €30. includes Tea/Coffee Sandwiches
Saturday Night 15th.March 19.30 hrs.Dinner.Cost €35.
Conference Details

0r Download a PDF Below

Non members welcome to attend
Cork Genealogical Society,

c/o Olive Coleman, 22 Elm Drive, Shamrock Lawn, Douglas,Cork, Ireland
Logo design by Éibhear Neff. © Cork Genealogical Society 2003-13